A stunning custom dressing room in Dalkeith
We operate across the Perth metro area and beyond, backed by years of experience and expertise. This project took place in Dalkeith, with our team helping to create an opulent dressing room that flowed seamlessly into the ensuite bathroom space.
Custom made wardrobes
There's something about a dressing room that just adds that next level of luxury to any home. What made this particular dressing room wardrobe fitout in Dalkeith so remarkable was its integration with the ensuite bathroom space. The result is a space that makes getting ready for the day so much more rewarding (and a lot easier, too).
The centrepiece of the dressing room is a large island bench, used for storing accessories. The wardrobe doors and drawers were then carefully designed to match the bathroom cabinetry, creating a uniform look that ties the room together. The white wardrobe drawers and doors also contrast perfectly with the black marble floors.
Lighting plays a big part in this successful custom wardrobe fitout design, too. This includes strip lighting along the floors and railings to softly illuminate clothing and other accessories. The room itself is also bathed in natural light, while the high ceilings add both prestige and task lighting.
As far as custom made wardrobe projects go, this was one we take very great pride in. There were so many elements to bring together to make this dressing room work, and we think the finished result is well worth showing off.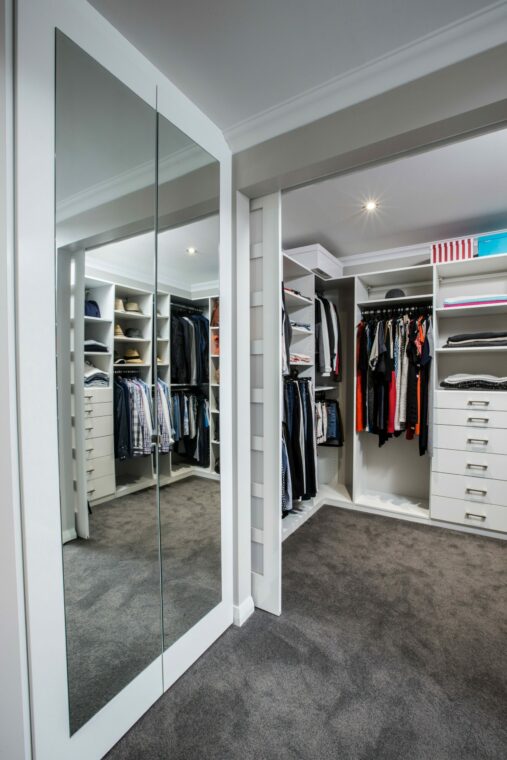 Are you feeling inspired? If so, let's work together to transform your walk-in robes and bedroom wardrobes. After all, there's nothing like clever wardrobe storage solutions to help keep you organised and ready to face the day in style. If you'd like to see more of our latest projects, head over to our photo gallery and virtual showroom.
If you'd like to find out more, we'd love to talk further. Chat to our friendly team today to see how we can help you bring your wardrobe dreams to life. Contact us today!
Speak with a Flexi Designer
to discuss your brand new Kitchen, Laundry, Wardrobe, Home Office, Entertainment unit or any Custom Cabinetry
Call 9301 4200