If your bedroom is bursting with clothing, shoes and accessories that need to be organised, a built-in wardrobe is the simplest way to boost your bedroom storage.  Built-in wardrobes are an efficient and tidy use of space in your home and are the perfect option for those who don't have too enough space for walk-in wardrobes or dressing rooms.
Built-in wardrobes utilise space in a more effective way than freestanding robes.  Freestanding robes can be bulky and will be unlikely to contain the kind of storage solutions you need.
Our customers often find that their storage needs change as their families grow.  Flexi will work with you to custom design a built-in wardrobe that will continue to suit your needs as your life changes.
Flexi can custom design built-in wardrobes for every room in your home. In the kids' rooms, you might want to consider adjustable hanging space which can accomodate your childrens' changing needs as they grow. In the spare room, your built-in wardrobe can include space for guests to use, or storage for something specific like hobby materials. Whatever you require, our team of designers will have a built-in wardrobe solution to suit you.
The design of your built-in wardrobe storage will be influenced by:
Whether the best option is hinged or sliding wardrobe doors
The amount of space available in the room
The configuration of the room
The amount of storage required
The way in which you wish to store your items (such as hanging space, drawers, shelving)
Your new built-in wardrobe can be created from an existing recess, replace an old built-in wardrobe or built entirely from scratch.
Our designers at Flexi have been working with home owners in Perth to design and install built-in wardrobes for over 15 years.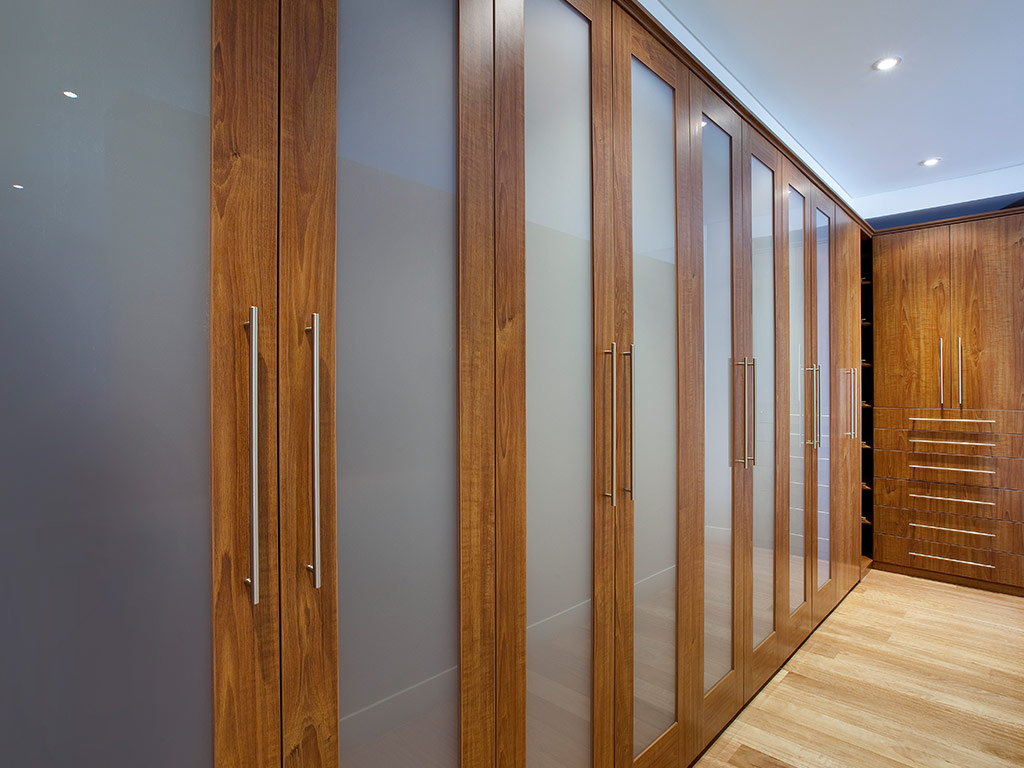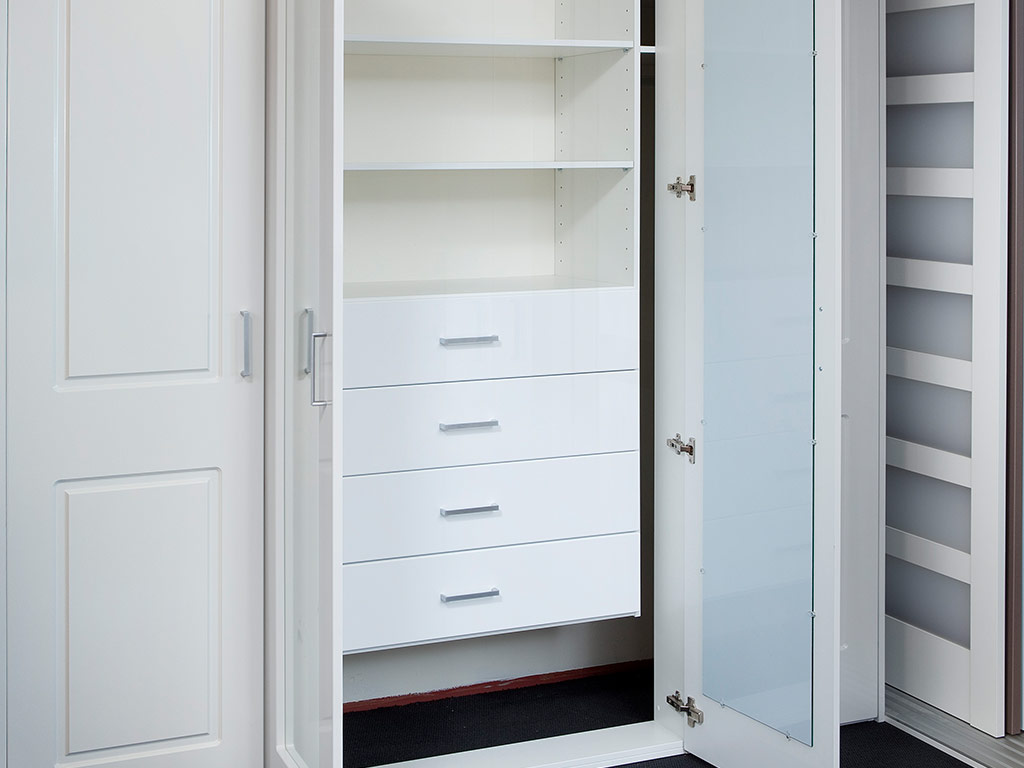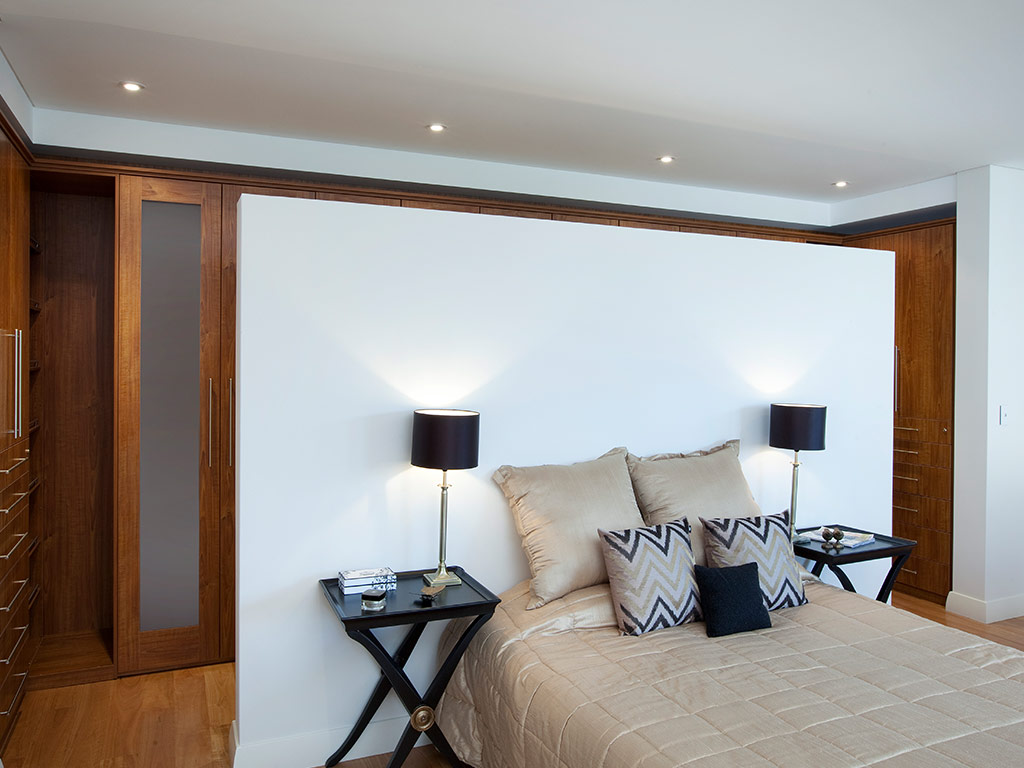 We can offer you:
Quality tradesmanship by experienced and skilled carpentry professionals
A built-in wardrobe that fits with the budget you set
Storage solutions that will suit your changing needs
A wide range of colours and finishes for your wardrobe doors that will match the room and the rest of your home if you wish
There are many options for you to consider when you are having your new built-in wardrobe designed. Flexi can offer you:
A range of door finishes and colours
A choice of gloss or matt finishes
With or without drawers
Customised hanging space
Belt and tie racks
Valet rods
Trouser racks
Chrome baskets
Angled and pull-out shoe shelving
Equally important is the design of your built-in wardrobe doors.  You can choose to keep the design of your doors to match the rest of your home or you can select something different to enhance the décor of the room.  Before we visit you, we suggest you do an internet search on the kind of design you would like to see in your new built-in wardrobes.
To help you with the design process, the team at Flexi will be able to show you our extensive range of doors that include:
 
Clear glass doors
Frosted glass doors
Mirrored doors
Wood grain doors
Panel doors
Aluminium doors
Carved doors
Gloss or matt finish
Coloured
White
A combination of materials such as grain, gloss or glass combinations
Speak with a Flexi Designer
to discuss your brand new Kitchen, Laundry, Wardrobe, Home Office, Entertainment unit or any Custom Cabinetry
Call 9301 4200
Built-In Wardrobes
Kids Wardrobes – Not Just a Secret Hiding Place
Kids bedrooms can quickly become out of control with the main culprit being toys and clothes. And one of the key contributors to little mess-makers is the lack of functional storage.
Your child's clothing storage needs can vary depending on their age and interests. Some kids aren't fussed when it comes to fashion. And others are little fashionistas in the making. 
The great thing about designing your child's room is just how customisable the bedroom storage solutions can be.
Let's start with wardrobes. You can choose from built-in wardrobes or freestanding wardrobes. The choice is yours and is often determined by whether you own or rent your home.
When's the best time to tame the terror zone?
A lot of parents take on this task during school holidays as you can get the kids involved. Getting their buy-in early will greatly improve the chances of them keeping their wardrobes clean and tidy.
It's also a great time to look at what clothes no longer fit them and you can work out what to do with them together. Whether it's handing them down to a younger sibling or friend, or donating them to charity if they are in good, sellable condition.
And children's wardrobes are so much more than clothes. There's just sooooo much stuff! If you don't already have dedicated storage for other items such as bedding and toys, you can create space for these in a cleverly designed wardrobe. Flexi's designers are experts in creating tailor-made solutions to suit your space and your child's needs.
Unlike some other wardrobes from the big furniture retailers, Flexi wardrobes will grow with your child. As our name suggests, flexibility is at the centre of everything we do.
What to include when designing your child's wardrobe?
Wardrobe Hanging Space
The great thing about kid's clothes are that they are smaller and take up less length, so you might want to consider two clothes rails. One rail positioned higher, for items they don't need to reach. And a lower rail for clothes they need to access such as everyday wear, sports and school uniforms.
Or you may want to have three hanging sections (instead of the traditional two) in your childrens' wardrobe so that you can fit more clothes in and it is suited to the size of the clothes. Do this with a shelf that can be removed at a later date to give great flexibility as your child grows.
Wardrobe Drawers
Built in wardrobe drawers are a must have to store for folded items such as t-shirts, jumpers and also for underwear. Drawers can be positioned under the hanging space and as located down low. That way your child will be able to access them easily. This doesn't just go for them taking clothes out, it will also be easy for them to learn how to fold and put clothes away.
Wardrobe Doors
Depending on how much space you have for wardrobe doors, you can choose from hinged doors or sliding doors for your child's wardrobe. We love sliding doors as they are easy for kids to open. Also, you can choose a mirrored option which is great for dress-ups and also helps create a light, bright and cheery space.
Shoe Storage
From sports shoes to school shoes to going-out shoes, they do take up room. Shoes so often end up under beds or strewn over the room. Shoe racks are an excellent way of being able to see all of your child's footwear matched up in pairs.
Study Nook
If you have enough space, a hideaway study nook can be incorporated into your child's wardrobe. Gives a whole new meaning to hiding them hiding in the wardrobe!
Hideaway study nooks allow your child to have a private study area with the benefit of any mess being hidden from sight when you close the sliding doors. And as Flexi sliding doors do not have bottom tracks, they'll be able to slide a study chair in and out of the space easily.
Clothes Storage is Child's Play
Good storage in your child's room should be flexible enough to grow with them. When you are designing their clothes storage, think about their needs now and into the future. And make sure you have regular culls and clean outs to make sure that unworn items aren't taking up valuable space.
For any parent, nothing is more satisfying than mastering messiness, making mornings easier and getting the kids to school on time. Never again will you hear "muuuuuuum I can't find my shoes!".