Enjoy the full cinema experience at home.
Add Value to Your Home with a Home Theatre
Enjoy the ultimate movie experience at home, with your very own custom home theatre. A home theatre (or home cinema) creates so much potential for your home, creating a comfortable and beautifully functional space to gather and relax.
You'll never want to line up for movie tickets again when you have your own custom home theatre in Perth. With the large array of streaming services available, you can enjoy TV shows and movies at home, whenever you like. Get your friends around to watch sports on the weekend, try out some new video games, or simply kick back on the couch for a good binge session.
To take your home theatre to the next level, Flexi can also custom design entertainment units, bookcases and bars. We can also create custom TV cabinetry, buffets and much more, giving you a wealth of storage options to choose from.
No matter the size or shape of your proposed home theatre room, we will work closely with you to bring your ideas to life.
Flexi's team of home cinema builders can custom design your home theatre, carefully considering all of your audio-visual equipment requirements. We can work with you to determine the best placement of your speakers, screens, acoustics and other equipment to ensure you get the most out of your home theatre room.
If you're starting from scratch, our team can also recommend a range of reputable retailers to help you kit-out your home cinema. This includes televisions, sound systems and speakers. Just ask our friendly team, and they'll set you on the right path to finding all the advice and support you need.
When it comes to the design of your home theatre space, we offer a large range of high-quality materials and colours to choose from. Our aim is to help you complement the existing décor of your home, allowing your home theatre to feel homely and cosy from the start.
Our home theatres will help you to enjoy what you love even more. Whatever your passion – cinema, sports, music or gaming – our home theatres will create the ultimate cinema experience in your own home.
What's more, a fully equipped custom home cinema design can add real value to your home. It can double as an entertaining space for the kids, a place to watch sport on the weekends, or just a stunning way to create additional privacy in your home to watch the shows you love.
With advice from our expert home theatre designers, you can enjoy all the many benefits of a home theatre. You'll wonder how you ever lived without one!
Our Home Theatre Installation Service
At Flexi, our service doesn't end when your new home theatre is installed. We're here to make sure you get the most out of your new space for many, many years to come.
Our exceptional after-care service includes ten-year workmanship warranties and lifetime warranties on all moving parts, including drawer runners and hinges. We know that things can happen in life, which is why we want you to have ultimate peace of mind.
Flexi has proudly created many amazing custom home theatres in Perth, all across the Perth northern suburbs, metropolitan area and beyond. If you'd like to get started, now's the time! Speak to one of our experienced home cinema designers today to find out how we can help you transform your home for the better.
A few things to consider when we design your home theatre:
What is the size of the room, and what are the seating options?
What part of the house will you use for your home theatre? Some of our customers use existing living spaces and some transform lofts, spare bedrooms and other unused areas to bring their vision to life.
What will the acoustics be like?
What type and size of television screen are you considering for your home theatre?
What will your home theatre primarily be used for? This can include watching movies, sports, video games and other options. For example, a gaming room might require more storage options to store games and equipment, while a sports room might require more floor space or seating options to help people get together.
Would you like to incorporate anything else into your space to make it even more beautifully functional? This can include things like a bar, a pool table or other entertaining equipment.
Do you want to incorporate lighting to enhance the atmosphere of the room (such as a mixture of ambient and task lighting)? If so, we can advise you on the best options available.
Would you like your décor to complement the rest of your home of are you going for a different look and feel?
Contact Us today, and make an appointment for a free one-hour consultation with one of our home theatre designers. This way, you can ask all the questions you need!
Your Flexi home theatre design can include: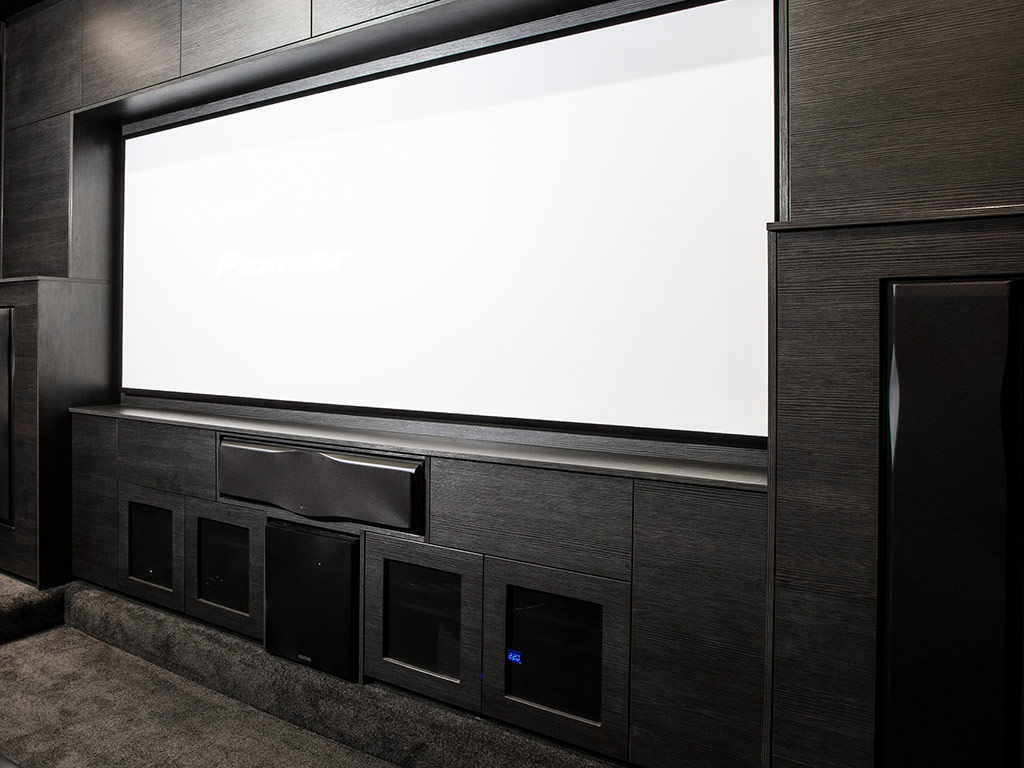 Cable ports, trays, pop-up GPOs and false panels to hide cords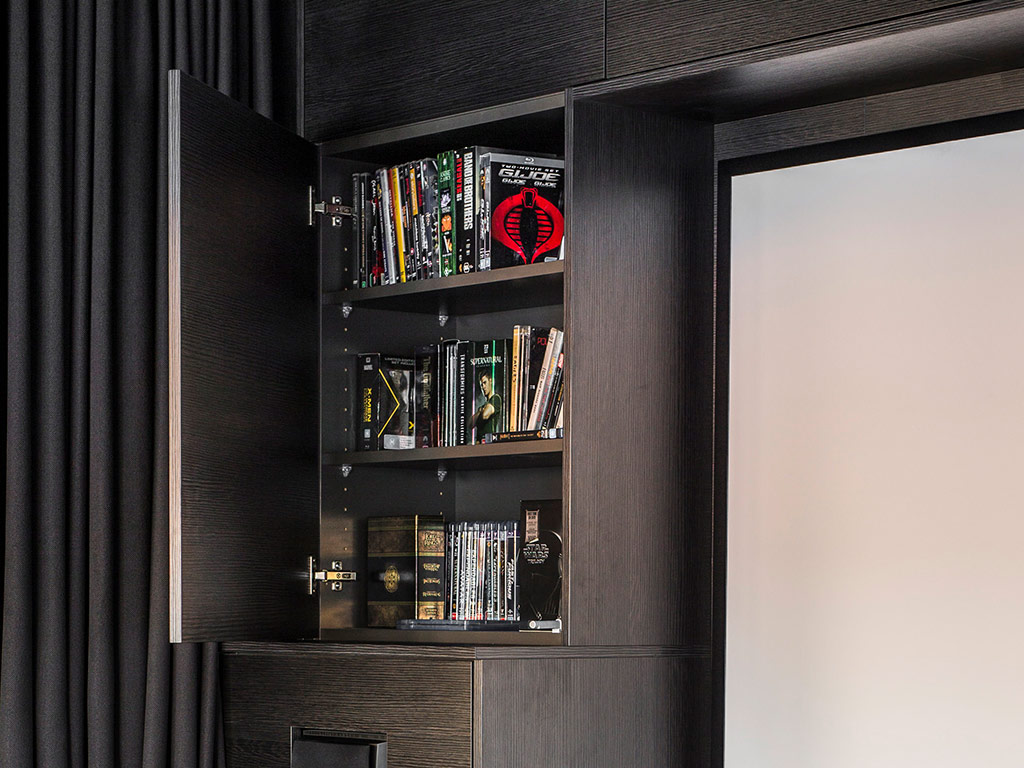 Soft close drawers and doors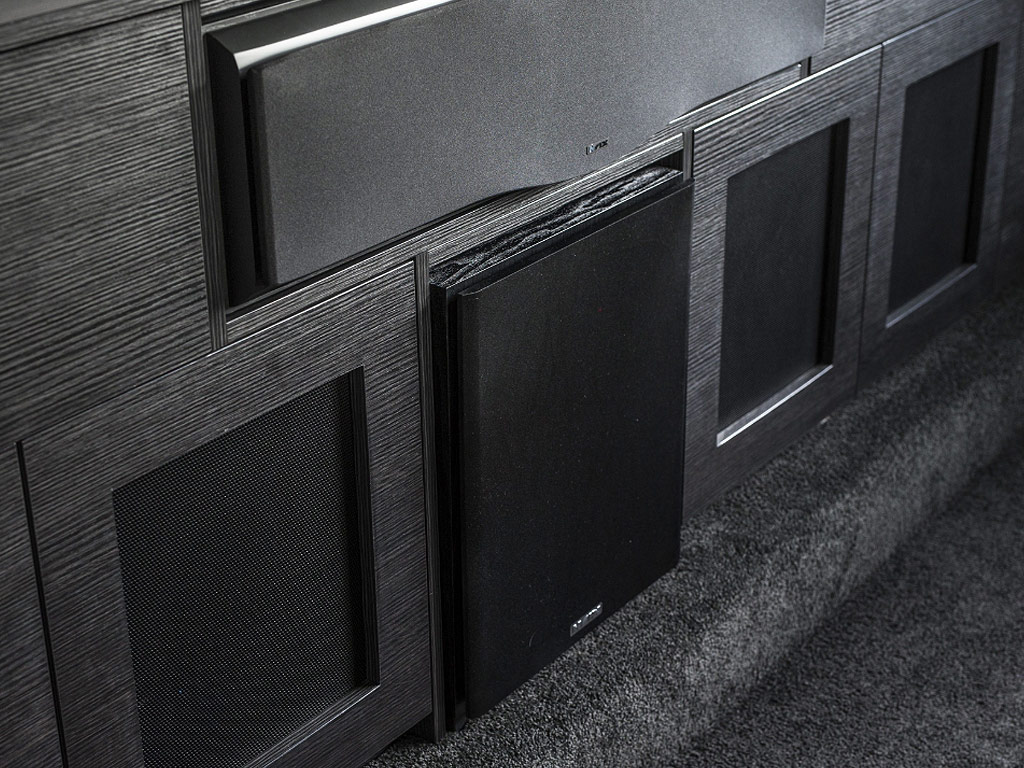 Aluminium or cloth mesh door options
Speak with a Flexi Designer
to discuss your brand new Kitchen, Laundry, Wardrobe, Home Office, Entertainment unit or any Custom Cabinetry
Call 9301 4200