Now's the time to really get cooking
Beautifully Functional Kitchens
The kitchen is the heart of the home, and with a little inspiration and some innovative design ideas, it will be a beautifully functional vibrant hub for your family. We understand that redesigning your kitchen is a big decision. Our designers will visit you in your home to measure and discuss your wish-list and needs. Your second appointment will be in one of our two showrooms so that you can select from our huge range of quality materials and accessories. You will even be able to see a 3D digital image of how your new kitchen will look, so that you can make any changes you wish.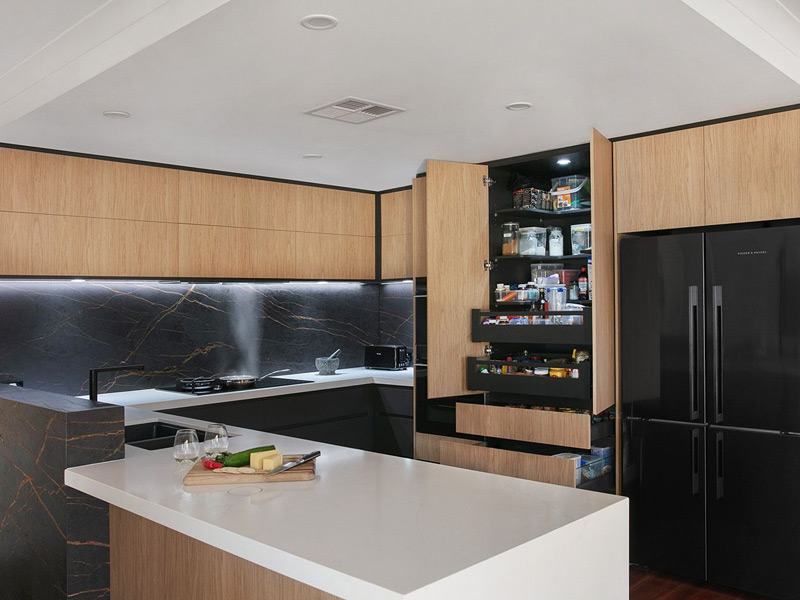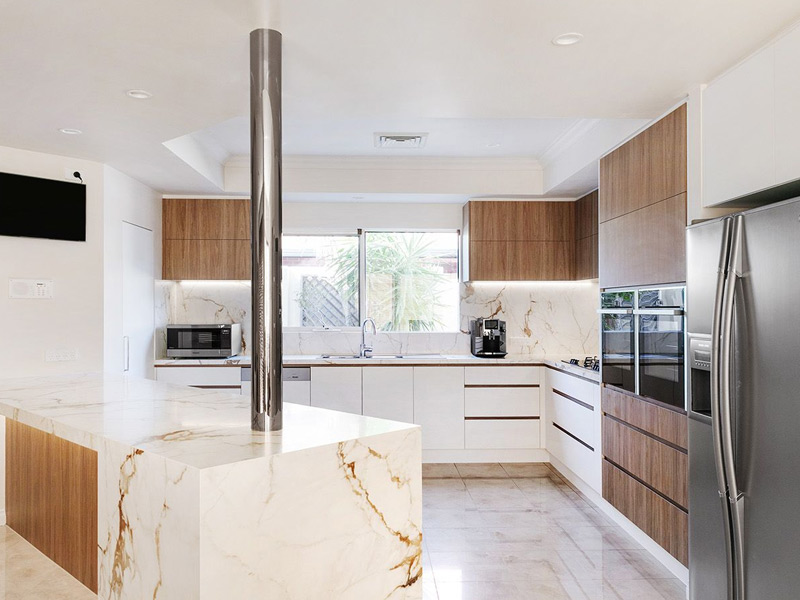 Full Project Management
Just as every customer is different, every Flexi kitchen design is unique. With our extensive options in kitchen cabinetry designs and colours and range of handles and accessories, we work with you to create a kitchen that best suits your lifestyle.
We fully project manage your entire kitchen renovation, from ripping out your old kitchen, to co-ordinating trades such as electricians, plumbers, plasterers, tilers to re-laying flooring and even removing or building walls if you want to change the layout. We can handle the whole process, saving you the the hassle!
Things to consider in your new Flexi kitchen:
Style – modern or traditional?
What shape is your kitchen? Galley, U-shape, L-shape?
Do you want to keep your existing footprint?
Do you want to keep the same shape, or remove a wall for a totally new layout?
How much work space do you need?
What storage do you need for food, utensils and appliances? Cupboards, shelves or drawers?
Do you want wine racks or a wine fridge?
Do you want space for family and friends to sit (such as a breakfast bar)?
Appliance choices – have you thought about integrated appliances for a seamless look?
Make clever use of corners – no wasted space.
Use of lighting to enhance workspaces and give that wow-factor.
Do you want an island bench?
What type of drawers and cupboards? Soft-close, push-to-open, streamlined or shadowline?
Do you have space for a butler's pantry or scullery?
Do you want to hide away the kitchen bins?

Some accessories ideas for your Flexi kitchen: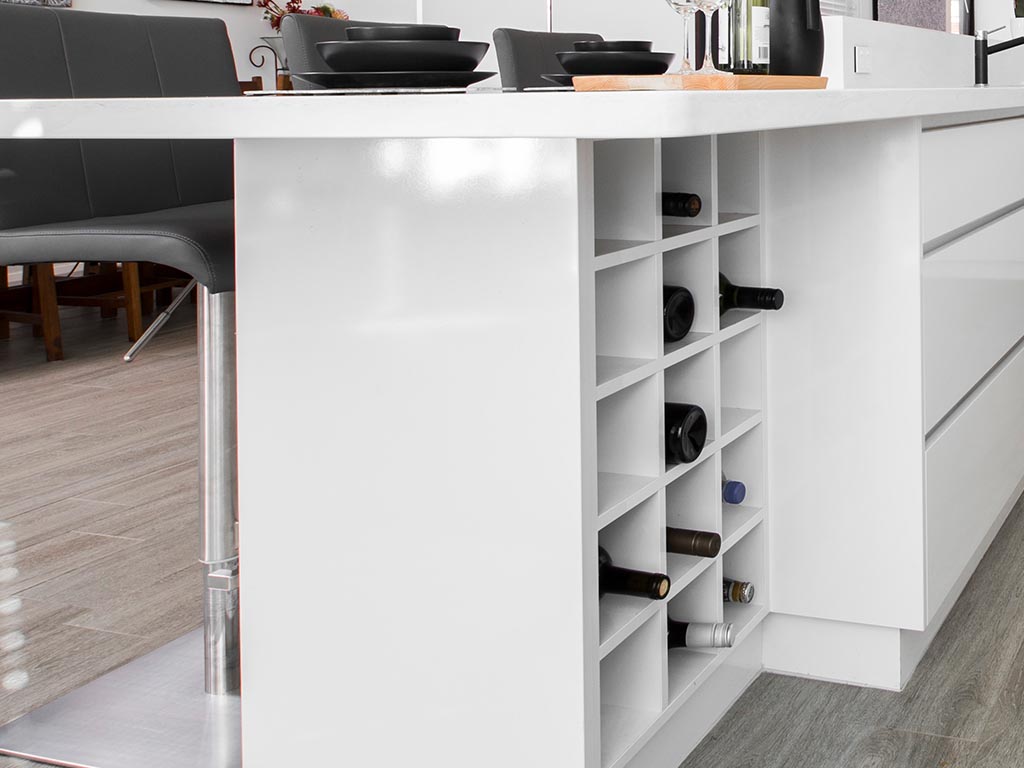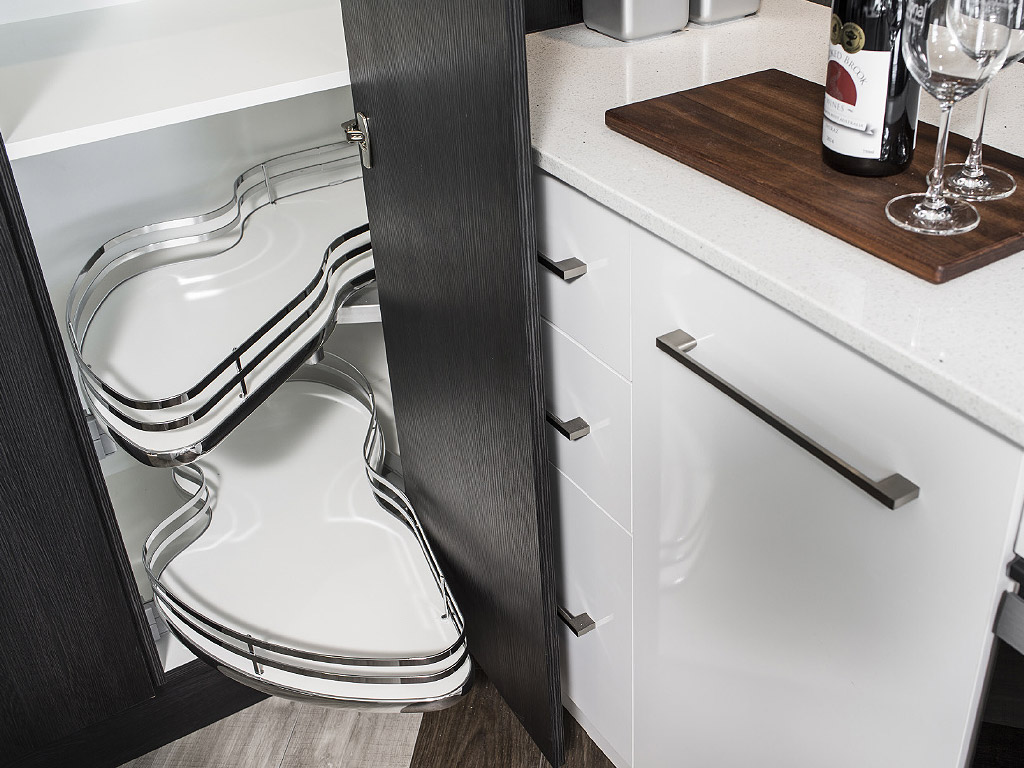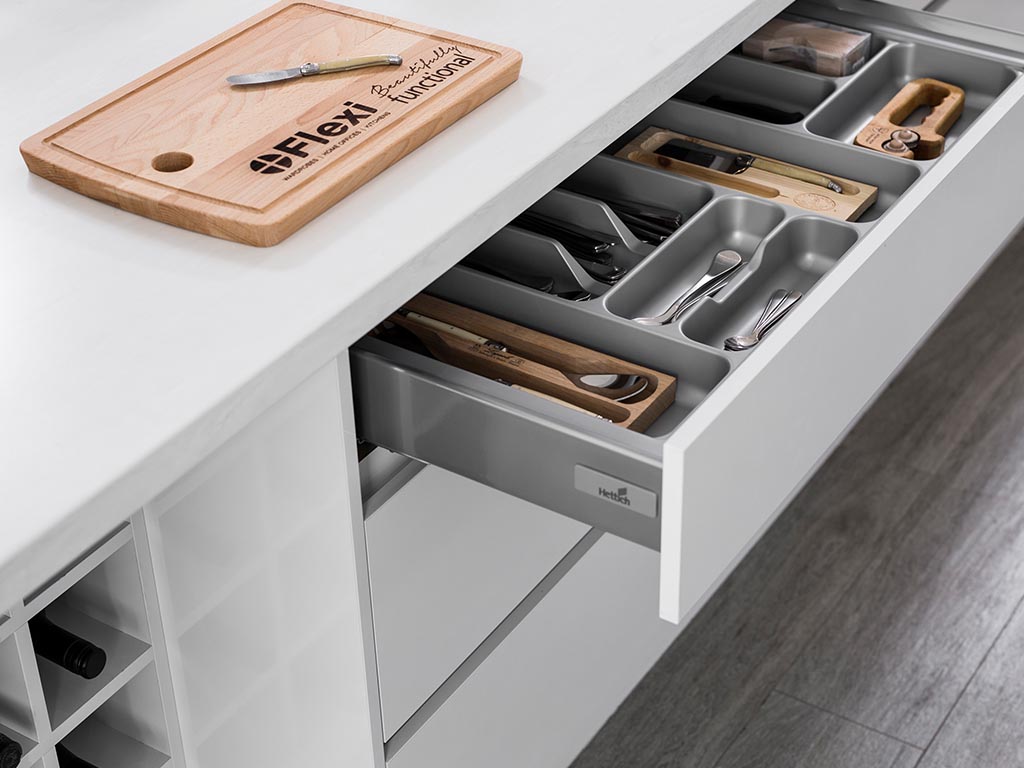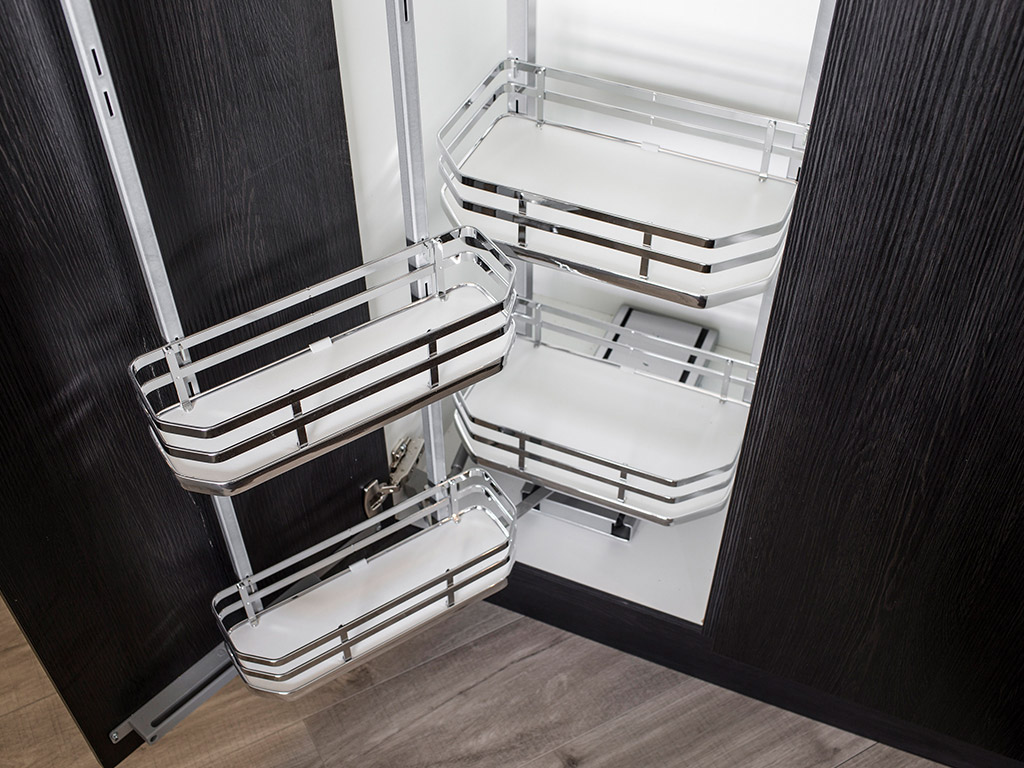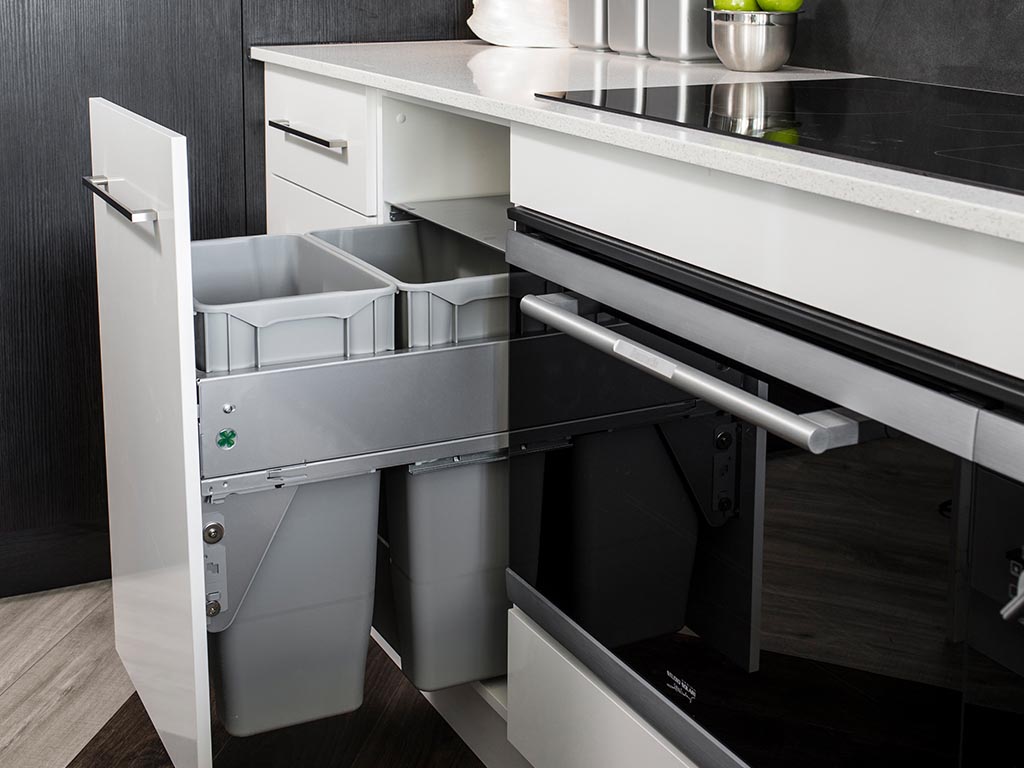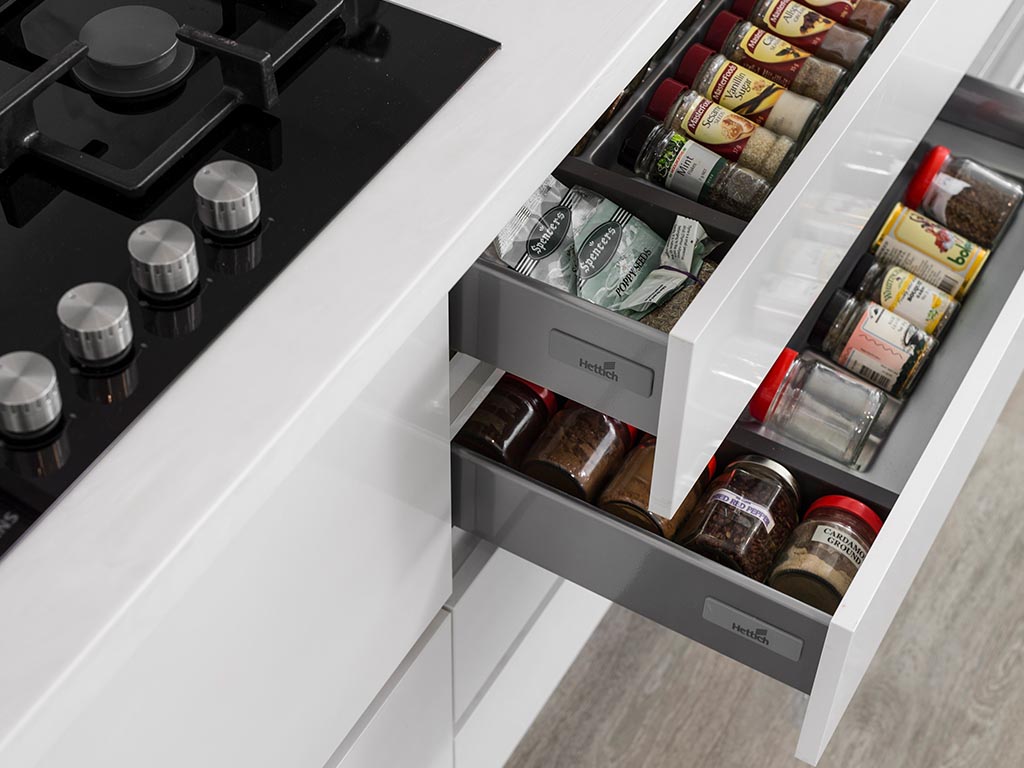 Speak with a Flexi Designer
to discuss your brand new Kitchen, Laundry, Wardrobe, Home Office, Entertainment unit or any Custom Cabinetry
Call 9301 4200
Kitchen Renovations Perth
Kitchen Renovations Made Easy
As the heart of the home, your kitchen can bring joy as well as comfort. Whether you are looking for modern kitchens or traditional kitchens, you won't regret choosing a custom kitchen for your kitchen renovations.
Have you heard of the "kitchen triangle"? Generally, we tend to move frequently between:
The Stove
The Sink
The Refrigerator
Knowing this can help you make practical choices when you are designing your kitchen renovations.
Ready to design a custom kitchen for your home? Looking for custom Perth Kitchens?
Modern Kitchens versus Traditional Kitchens
Choosing the look and feel of your kitchen is a personal choice. You can get creative and have fun with designs or stick to basics.
Have a think and jot down some thoughts and ideas about what look and finish you ideally want.
Are you looking for a modern look? If you like clean, sleek, and sophisticated design, then go for modern kitchen renovations. The appeal of a modern kitchen is obvious if you enjoy creating a simplified home with an emphasis on function and are happy with removing unnecessary details and frills.
However, if you prefer a traditional look, one that compliments the era of your home or a historical theme, you'll love a traditional custom kitchen.
Traditional kitchens vary widely in appearance, due to a rich history of designs to work from, however you can still enjoy modern appliances ns fitting even in a traditional design look.
Actually, why not go for the best of both worlds? You can pair modern vintage by combining some key pieces. Or stick with a neutral look but add in colour and individuality with your flooring, ceiling, splashback and lighting.
Beautifully Made Custom Kitchens
The best part of choosing a custom kitchen design is the fact you can combine you own unique style with functionality. When planning your kitchen renovations, stay true to your vision and bring it to life with a custom kitchen design.
Kitchen Remodel Tips
At Flexi kitchens, we fully project manage your entire kitchen renovation and love helping people create their Perth kitchen.
We have years of experience in designing and fitting many different unique kitchen designs. Here are the top tips we have learned along the way:
Start by choosing a colour scheme – fresh or classic? Bright or cool?
Consider the "walkways" – where is the flow of traffic in your kitchen? How do you go through the kitchen and use the "kitchen triangle"?
Do you prefer storage on display or hidden? Some people like the trend of having everything out and other people like to "hide" even the fridge behind a cupboard door!
Plan out seating choices – are you after a breakfast bar setting? Do you want a large dining table in the kitchen?
Are you planning a kitchen for you to enjoy, or are you preparing the house for sale?
At Flexi, we can handle the whole process, saving you the hassle! Get ready to design a custom kitchen for your home, and talk to us today