A custom dressing room and built-in wardrobe in Fremantle
Flexi has the flexibility and capabilities to bring our customers' ideas to life across Perth's northern suburbs, Perth's southern suburbs and everywhere in between. This home renovation took place in Fremantle, with the creation of a new walk-in dressing room and two-tier built-in robe.
Custom Dressing Room
Taking place in a heritage-style home with ornate high ceilings and polished floorboards, this custom dressing room design in Fremantle added even more traditional elegance to a home bursting with character. Working with the high ceilings, our Flexi team designed a two-tier dressing room that included floor-to-ceiling cabinetry.
The bottom wardrobe doors and drawers offer ample storage for clothes, shoes and accessories, while the top cabinetry is ideal for storing seasonal items and other lesser-used objects. At the centre of the walk-in wardrobe dressing room is an existing window, which acts as a focal point while bringing in plenty of warm natural light.
We took great pride in bringing this custom dressing room to life, while maintaining the heritage charm of the home. It's up there as one of our favourite wardrobe designs!
Custom Built-in Wardrobe
This minor bedroom lacked a wardrobe before our team worked their magic, meaning the bedroom often appeared untidy. Working again with the high ceilings, our Flexi team designed and installed a two-tier built-in wardrobe design. This included mirrored wardrobe doors, as well as utilising space above the doorway and room entrance to create even more storage opportunities.
From a cluttered space to a stylish and inviting bedroom, the results truly speak for themselves. This project highlighted how our team is always looking for ways to create opportunities across our renovation projects, utilising the high ceilings to deliver more storage solutions.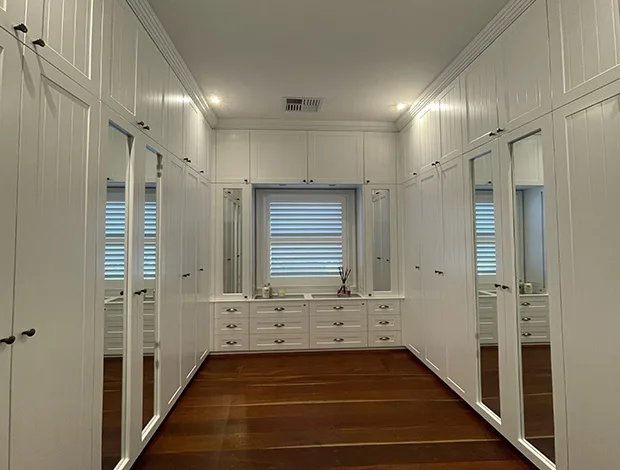 Speak with a Flexi Designer
to discuss your brand new Kitchen, Laundry, Wardrobe, Home Office, Entertainment unit or any Custom Cabinetry
Call 9301 4200